In our previous blog, 'How Much Does Your Insurance Actually Cover? (Part One), we looked at common exclusions in personal insurance policies and how to read the small print of your insurance policy.
In the second half of this two part series, we look at business insurance policies, and some of the common exclusions business owners need to look out for.
Common Business Insurance Exclusions
Obtaining comprehensive commercial insurance is essential for any business, regardless of its size. Whether you own a local bakery, or are part of a large-scale, international business operation, your business will need to be financially protected in the event something goes wrong.
To make sure you're not left in lurch when you try make a business insurance claim for something you thought you were covered for, it's worth familiarising yourself with these common exclusions.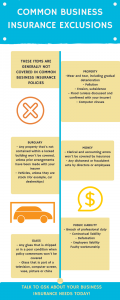 To learn more about what is and isn't covered in common commercial business insurance policies, talk to GSK Insurance Brokers today! Our business insurance brokers in Perth and Melbourne are equipped with the skills and expertise they need to secure you the best possible insurance at the best available price.