The demand for couriers is continuing to increase in Australia and many people are understanding that they can successfully enter the Australian courier market at a small, medium or large level. This article will explain the essential decisions that are needed so that you too can know how to start a courier business in Australia.
The fundamentals: types of couriers and courier business models
There are a few things to know and some decisions to make when you begin thinking about starting a courier business. When these choices are made well, you'll be set up for success.
1. What kind of courier company will you be?
The basics of delivering goods from one place to another are the same for any courier business. However, if you are clear about what kind of courier you will be then your investments, insurance, branding and marketing will all be sensibly aligned for success.
Courier companies can be international, long haul or inter-city, or they can also be very local. Courier businesses can use trucks, vans or even electric bicycles or scooters. Courier services can be general or specialised e.g. medical, climate controlled or dangerous goods. It is also important to decide what sort of clients will your company serve.
2. What revenue and business models will you use?
The core of the courier business model has three elements. First, take orders from customers needing you to transport their goods. Second, plan your pick-ups and deliveries for optimised efficiency, saving time and money. Third, deliver.
Decide who your clients will be and how you will receive payment. Will your model be peer-to-peer, business-to-business, business-to-client or subscription-based?
When setting up your courier business, make sure that you will be able to easily scale it up as more and more business comes in.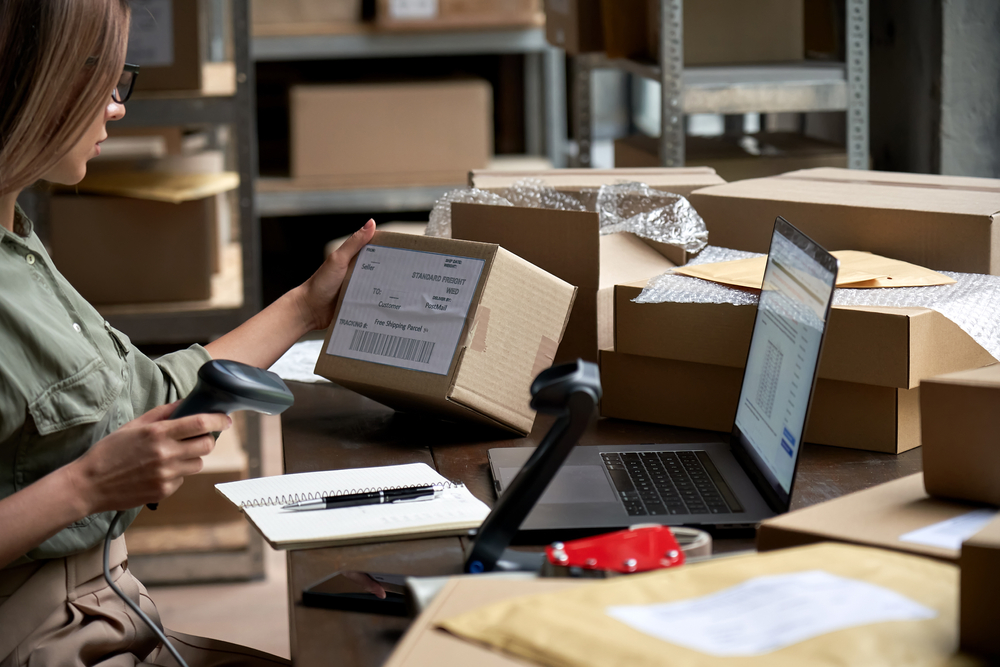 Register your business and obtain permits
When thinking about how to start a courier business in Australia, there are many steps to take which are the same for any business. In Australia, there are legal requirements to properly register your business with the Government.
You will need to choose a unique name for your courier company. Your company name should be memorable and give potential customers the right impression. You can then register the name you've chosen and your brand as a trade mark to prevent others from using it.
Acquire an Australian business number (ABN), this is necessary for your dealings with the Government and other businesses and customers.
You will need to decide if your business is going to operate as a sole trader, partnership or company as defined by the Australian Government. If you decided on a partnership or company, register your business as such and set up the required structure.
In order to stay on the right side of the law, find out which licences are required for the type of courier business you are running and which laws apply.
Set up your financial plan for success
In order to reap the rewards of the Australian courier market, special attention must be given to planning the finances of your business.
Open a business bank account: choose one that offers a good rate and gives you the functionality you will need.
Set up a competitive pricing structure: you will need to wisely balance your profitability with your competitiveness. Research the rates of competitors for a guide.
Control your cash flow: you need to understand what all your outgoing costs will be and when they will be due so that you will always have enough to cover your expenses.
Get appropriate couriers insurance: the courier business comes with substantial risks that need to be covered. This includes damage or loss of goods, damage to your vehicles and equipment, sickness or injury to you or your staff and also damage or injury to the public. An insurance broker, like the team at GSK Insurance brokers, can save you time and money by using our expertise to get you an insurance package that is the best fit for your particular business.
People, space and equipment
When work begins you'll probably need vehicles to move the goods, people to do the work, storage space and software.
People: if your business is going to be handling a significant amount of orders you probably will need at least two people. Someone to handle the office work of communicating with clients, managing paperwork and marketing and someone to physically deliver packages. You can consider whether you want to do everything in-house or partially outsource the work.
Space: you will probably need a storage place if your business is substantial in size. Ensure the location is suitably located, secure, and convenient and that you are legally allowed to use it for your courier work.
Equipment: vehicles are essential to the courier business but you don't have to buy it all. Consider whether it makes sense to rent or buy what you need. Route planning software can save you lots of time and money. This is because you may have hundreds of deliveries a day scattered around the city and calculating the fastest route becomes extremely complicated. You will need something to keep a record of deliveries and to collect client signatures on delivery. Other equipment required may include bags, trolleys, straps and bungee cords.

Marketing and building a client base
A successful courier business needs to connect to potential clients effectively and acquire repeat business.
Build a website: an attractive, informative, functional and useable website will help convert people from visitors into customers.
Marketing campaign: effectively utilise advertising and social media engagement to expand your reach and win over customers.
Build a brand: be recognisable, understandable and attractive.
Provide excellent customer service: deliver quickly and communicate well. Repeat business and building your reputation will ensure that yours is a successful courier business.
We hope that this article has helped you see the way forward regarding how to start a courier business in Australia that is successful and profitable. When it comes down to sorting your insurance out, contact us at GSK insurance brokers. We know the risks and needs of the Australian courier world and can find a package that is just right for your unique business.