What puts a lot of people off starting a business is the expense and complexity of getting a new business going. Happily, this is not the case in the booming courier industry because it is relatively simple and cheap to get in on the ground level by becoming an owner-driver courier. This article will clearly describe what owner-drivers are and break down the most important steps of how to become an owner-driver courier in Australia.
What is an owner-driver courier?
An owner-driver courier is a courier that is their own boss and drives their own courier vehicle. They do the same work as other couriers, picking up and delivering goods, but usually are sole traders or contractors running their own small businesses. Owner-drivers still have the opportunity to expand their business by taking on employees or subcontracting out work if work expands to be more than they can handle by themselves.
8 steps to becoming an owner-driver courier
1. Identify a market and make a business plan
The first step is to decide what particular market you will serve. You need to find out what work there is out there for a courier business in your local area and what type of courier service will make the most economic sense for you. You can get advice on this by talking to people already in the industry as well as contacting businesses that are likely to need courier services. See what other couriers in your area are charging for their services and calculate whether you will be able to be competitive.
Once you have identified a market for courier services you can make a business plan. A business plan will help ensure that your courier business will reward your hard work with a good profit rather than a meagre return or loss. The business plan should clearly map out how your courier business will operate, your goals and how you will reach them.
2. Get a vehicle
Courier vehicles come in a wide range of shapes and sizes, just as the goods they deliver vary widely. The vehicle you choose for your business will limit your cargo choices. The list of courier vehicles can include drones, bicycles, e-bikes or e-scooters, motorbikes, small hatchback cars, utes, vans or trucks. Keep in mind that an e-bike courier will not be able to transport an engine block and on the other hand, using a truck to deliver a bunch of flowers will not be economically feasible. There are also niche courier jobs that require special equipment such as climate-controlled cargo bays. Be sure to choose a reliable vehicle.

3. Make a brand
Creating a unique brand will help you to be remembered and recognised. It will also give people the impression you want them to have about who you are as an owner-driver courier. Ideally, this impression will be of reliability, swiftness and professionalism. When you design your brand, think about a name, a logo, vehicle decals, a uniform, web design and business cards.
4. Register your courier business
This step of how to become an owner-driver courier involves registering your business with the government and making it official. Since you want to become an owner-driver, you need to register your business as a sole trader and receive an ABN number. You also need to register your business name and register for GST. This can all be done here. You also need to register your trademarks to protect yourself from being copied.
5. Get your licences
The most important licences are for the courier vehicle (vehicle registration) and for you to be able to drive it on the road (driver's licence); check with your state what licence is required for your type of vehicle. You might require other permits and licences depending on the nature of your service and your storage facility's location. Check what other licences your courier service might require here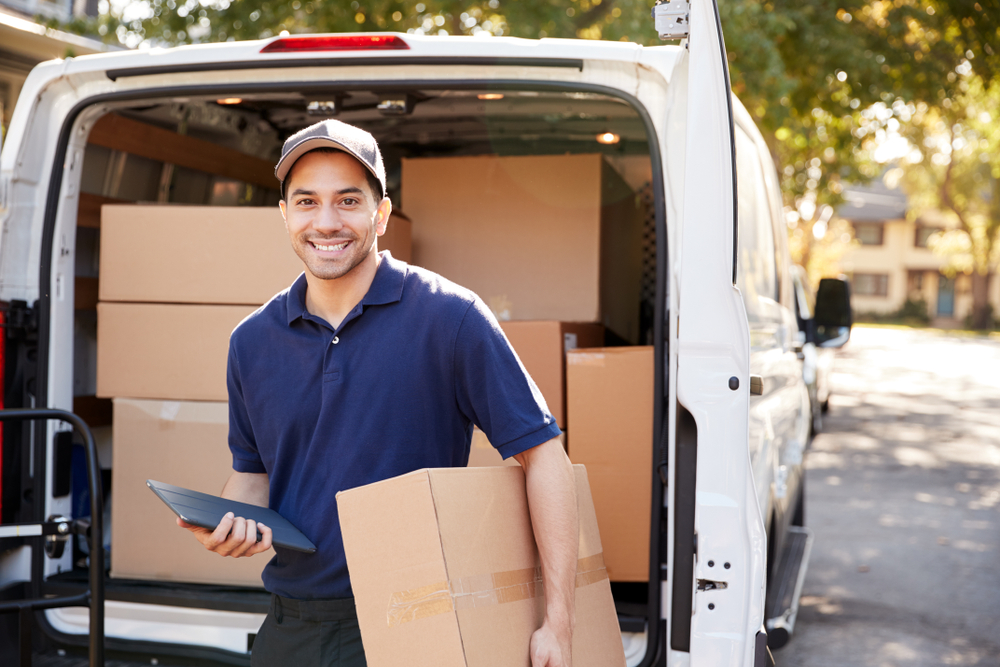 6. Get your gear and storage space
Thankfully there is not a lot of equipment that couriers need but there are a few important things to keep in mind. You will probably need a trolley. A small two-wheeled trolley might do the trick, but if not you could get a platform or stair climber trolley. You will almost certainly need straps to keep goods secure while in the vehicle and also on the trolley. To avoid damage to goods also buy some soft protective material such as foam mats or blankets. For the vehicle, get dash cams and a GPS system if it doesn't already have a good one. Don't forget your record-keeping equipment, particularly something to collect receipt of delivery.
If required, find a convenient, secure, flood and fire-safe storage location to keep goods that can't be delivered on the same day.
7. Sort your insurance out
People who have never run a courier business before might ask 'what could go wrong?' The answer is a lot, which is why it is important to get the appropriate insurance coverage before starting work. As a courier you will be on the road, carrying valuable goods and interacting with the public most of your working life. Risks in the courier industry include damage or theft of your clients' goods, theft or damage to your vehicle, damage to other people's property and injury to you or the public. Insurance exists to ensure that the harm from unpredictable negative events doesn't damage the business excessively or drive it into bankruptcy and that people harmed receive compensation. We at GSK insurance brokers can help you with this part. In fact, we have already designed a couriers insurance package that covers the particular areas of risk that couriers face.
8. Get customers, deliver and profit
Now that your business is set up and ready to go, it's time to get customers. From your market research, you may already have identified entry points into the industry. Contact likely leads and introduce them to your courier service. By pricing yourself right as someone entering the industry, you will be able to effectively compete with established couriers for jobs. You can also contact successful couriers in your area and find sub-contract driver opportunities.
Finally, market yourself to find other job leads. Create social media accounts and use them to advertise and increase your exposure. Advertise offline and online, targeting your ads toward the right type of customers for you. Put yourself into the business index and on Google maps.
Deliver swiftly and safely with outstanding customer service and reap the rewards.
On behalf of GSK insurance brokers, we hope that this article has made how to become an owner-driver courier plain and simple. Good luck!
For advice on couriers insurance and to find a package perfect for you, call our talented team to talk through your options.